Module de consultation des zonages de l'Observatoire des territoires
Published on November 24, 2020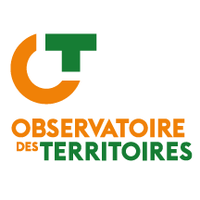 Observatoire des Territoires - ANCT
L'Observatoire des territoires est à la disposition des acteurs de l'aménagement, des élus et des citoyens, pour leur permettre de comprendre nos territoires et de construire leur développement. Animé par l'Agence nationale de la cohésion des territoires, il est chargé de rassembler, d'analyser et…
acv
afr
littoral
massifs
montagne
pnr
pvd
ruralites
territoires-dindustrie
zonage
zorcomir
zrd
zrr
Informations
Type

Application

Topic

Environment and energy

ID

5fbd29c511a5a9798e092119
Publication
Creation date

November 24, 2020
Description
L'outil de consultation des zonages vous permet de savoir si votre commune est concernée par un des zonages suivants : Action Coeur de Ville (ACV), Territoires d'industrie, Zones de revitalisation rurale (ZRR), zones d'Aides à finalité régionale (AFR), Zones de restructuration des commerces en milieu rural (ZoRCoMiR), Zones de restructuration de la défense (ZRD), massifs, parcs naturels régionaux (PNR), loi littoral et zones de montagne (zonage agriculture).
Discussion between the owner and the community about this reuse.
More reuses
Discover more reuses.