Zones de production ou de parcage conchylicole - Métropole
Description
Les zones de production conchylicole sont identifiées au titre du paquet européen hygiène (CE/854/2004) et de l'arrêté du 21 mai 1999 relatif au classement de salubrité et à la surveillance des zones de production et des zones de reparcage des coquillages vivants.
L'ensemble des zones de production de coquillages (zones d'élevage et de pêche professionnelle) fait ainsi l'objet d'un classement sanitaire, défini par arrêté préfectoral.
Celui-ci est établi sur la base d'analyses des coquillages présents : analyses microbiologiques utilisant Escherichia coli (E. coli) comme indicateur de contamination (en nombre d'E. coli pour 100 g de chair et de liquide intervalvaire - CLI) et dosage de la contamination en métaux lourds (plomb, cadmium et mercure), exprimé en mg/kg de chair humide. Le classement et le suivi des zones de production de coquillages distingue 3 groupes de coquillages au regard de leur physiologie :
groupe 1 : les gastéropodes (bulots etc.), les échinodermes (oursins) et les tuniciers (violets) ; plus généralement des coquillages sauvages de gisements naturels,
groupe 2 : les bivalves fouisseurs, c'est-à-dire les mollusques bivalves filtreurs dont l'habitat est constitué par les sédiments (palourdes, coques...) ; plus généralement des coquillages sauvages de gisements naturels,
groupe 3 : les bivalves non fouisseurs, c'est-à-dire les autres mollusques bivalves filtreurs (huîtres, moules...) ; plus généralement des coquillages d'élevage.
Ce concept est bien distinct de celui de 'Zone de qualité des eaux conchylicoles'.
Le contour de la Zone de production conchylicole ne correspond pas au cadastre conchylicole (= cadastre des établissements de culture marine).
Origine
Mise à jour sur la base des informations transmises par les services de l'Etat
Organisations partenaires
Office Internationale de l'Eau (OIEAU), Directions Départementales des Territoires et de la Mer (DDTM), Service d'administration national des données et référentiels sur l'eau (Sandre), Agence française pour la biodiversité (AFB) - Pôle de Vincennes (ex Office national de l'eau et des milieux aquatiques)
Liens annexes
Producer
⚠️ This dataset is handled by the geo.data.gouv.fr platform. This platform is not actively maintained and as a result, you may find some bogus data or metadata. More information about the shutdown of geo.data.gouv.fr is available here.
Latest update
October 23, 2020
License
Licence Ouverte / Open Licence version 2.0
Metadata quality
66.66666666666666/100
Metadata quality:
Data description filled
Resources documented
License filled
Update frequency not set
File formats are open
Temporal coverage not set
Spatial coverage filled
Temporal coverage not set
2 Reuses
Visualization
Published on July 23, 2014 by Eric Longuemare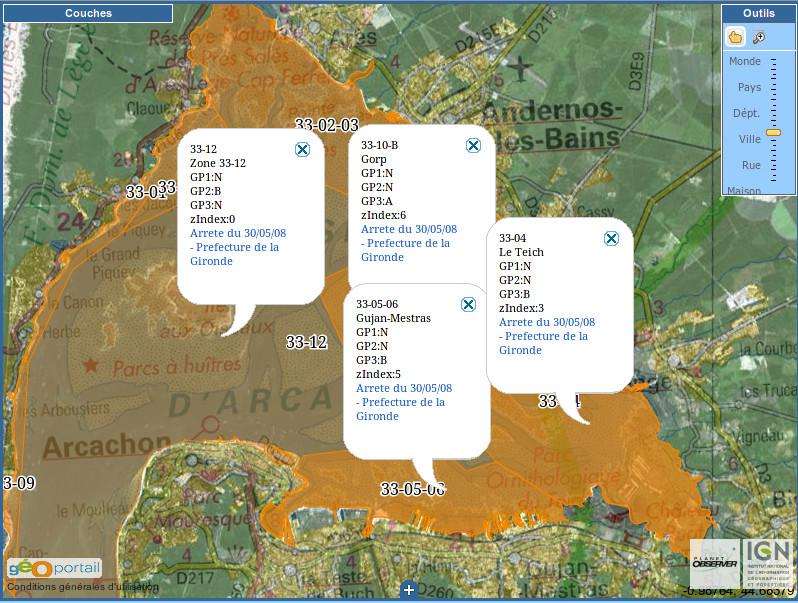 There is no community resources for this dataset yet.
Informations
Tags
ID
5369a3a0a3a729239d206ae3
Temporality
Creation
September 14, 2013
Latest update
October 23, 2020
Spatial coverage
Territorial coverage granularity
Other
inspire:identifier
6362596f-29d2-4e94-af9b-04283841e3f7
geop:dataset_id
6d7e241278efea04675c1a3da449cc4f125a2f71
inspire:resource_identifier
http://www.sandre.eaufrance.fr/?urn=urn:sandre:donnees:ZoneProdConchy:FXX:::ressource::::html