Services publics d'eau potable - jeux de données exploités pour les rapports nationaux SISPEA
Description
Les données de synthèse du Système d'Information sur les Services Publics d'Eau et d'Assainissement (SISPEA) présentent, service par service, la fraction des données accessibles au grand public sur l'Observatoire des services d'eau et d'assainissement (http://www.services.eaufrance.fr), pertinents pour chaque compétence (eau potable, assainissement collectif, assainissement non collectif) et requises pour la réalisation du rapport annuel de la compétence et de l'année considérée.
Chaque fichier correspond aux données d'une année et d'une compétence et comporte une série de données :
Tableau de séries de données, par service public : description, indicateurs, variables, avis de vérification des services de l'Etat (onglet "services")
Ces fichiers correspondent à la compétence eau potable.
La description des services provient des DDT(M/DEAL/DRIEE et représente un recensement quasi-complet des services existants. Les données annuelles (indicateurs et variables) sont produites, saisies et publiées par les collectivités après vérification par les services de l'Etat (DDT(M)/DREAL/DRIEE). Accessoirement, ces derniers peuvent saisir et publier les données, en concertation avec les collectivités.
Les services de l'Etat réalisent un contrôle de de cohérence de chaque indicateur et traduisent ce contrôle par l'un des 3 libellés suivants : "sans anomalie apparente", "présomption d'anomalie" et "anomalie"). Les indicateurs assortis de l'avis "anomalie" ne figurent dans le présent fichier car jugés non exploitables pour le rapport.
Parmi les indicateurs on trouve entres autres : le nombre d'habitants desservis ; le délai maximal d'ouverture ; les taux de conformité des eaux distribuées au titre du contrôle sanitaire ;
le rendement du réseau de distribution ; les indices de pertes en réseau ; le taux de renouvellement des réseaux ; l'indice de gestion patrimonial des réseaux.
Origine
Les indicateurs rendus publics avec "anomalie" ainsi que les indicateurs sans variable d'agglomération renseignée mais également les indicateurs sortant de l'épure décrétée par l'AFB (à l'extérieur d'un intervalle min-max) ont été écartés du présent fichier.
Seules ont été gardées les données exploitables ET jugées fiables pour l'élaboration du rapport.
Organisations partenaires
OFB
Producer
⚠️ This dataset is handled by the geo.data.gouv.fr platform. This platform is not actively maintained and as a result, you may find some bogus data or metadata. More information about the shutdown of geo.data.gouv.fr is available here.
Latest update
June 19, 2020
License
Licence Ouverte / Open Licence version 2.0
Metadata quality
44.44444444444444/100
Metadata quality:
Data description filled
Resources documented
License filled
Update frequency not set
File formats are closed
Temporal coverage not set
Spatial coverage not set
Temporal coverage not set
1 Reuse
Visualization
Published on March 9, 2023 by Akwari Coop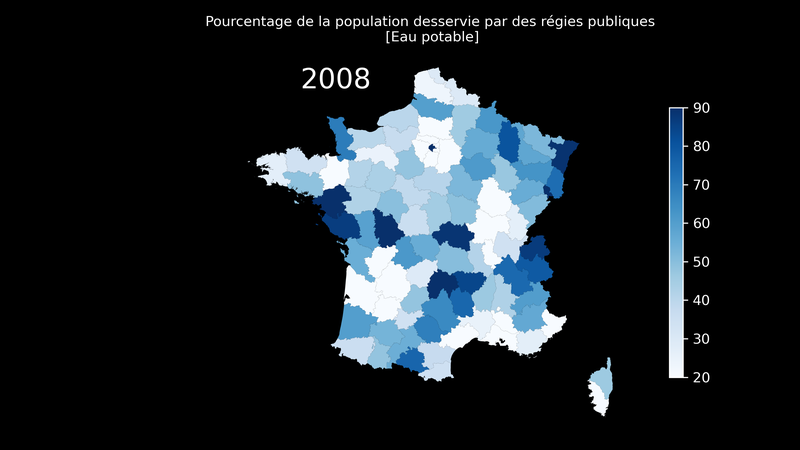 There are no discussions for this dataset yet.
There are no community resources for this dataset yet.
Information
Tags
ID
5d834124634f414ba39e92d3
Temporality
Creation
September 19, 2019
Latest update
June 19, 2020
inspire:resource_identifier
7d6a3010-cf19-42c3-8a38-9823074185ce
geop:dataset_id
359073a21ecb65abf82e617ec36068a7440e2ad8
inspire:identifier
7d6a3010-cf19-42c3-8a38-9823074185ce