Conventions collectives et ses synthèses par LégiSocial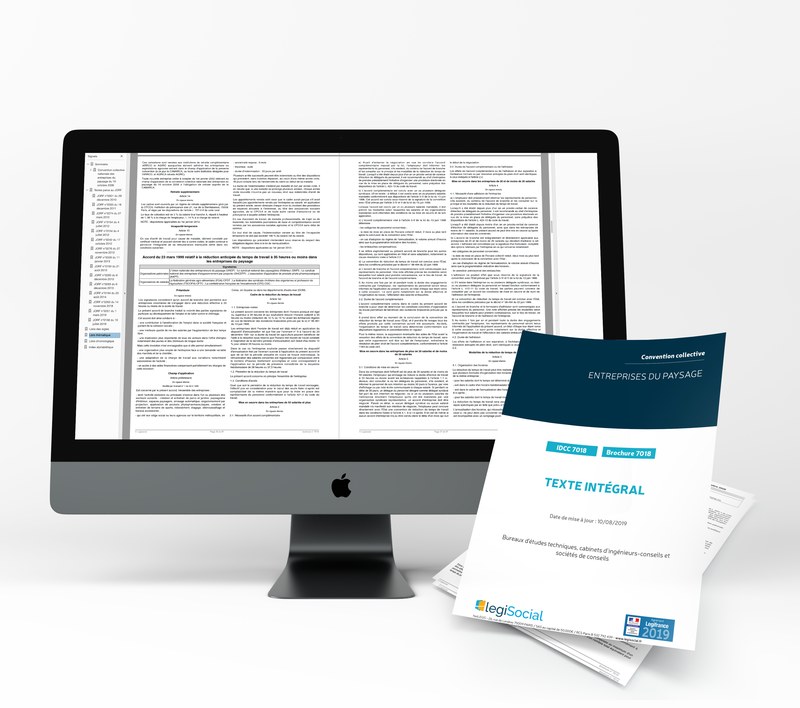 LégiSocial propose plus de 350 synthèses des conventions collectives rédigées par nos experts à partir des textes officiels (KALI, JORF, BOCC) et plus de 450 conventions collectives à jour. Depuis 2011, LégiSocial est le site expert de référence en social, paie & RH en fournissant de l'actualité sociale, des jurisprudences commentées, des chiffres & taux, des outils pratiques et dossiers synthèses, modèles de lettres, des documents et contrats. De surcroit, LégiSocial édite une lettre d'information bi-hebdomadaire distribuée à plus de 450.000 abonnés.
Les conventions ainsi générées sont au format PDF avec un sommaire cliquable, un index thématique, un index chronologique et alphabétiques. Pour chaque conventions, dans un tableau pratique, tous les articles et numéros de pages liés aux thématiques fortes : Maladie, Période d'essai, Préavis, Accidents, Frais de santé... Il suffit de cliquer sur le numéro de page correspondant pour être redirigé.
Nos conventions collectives sont pensées pour l'impression écologique et la lisibilité : la mise en page sur deux colonnes de nos conventions collectives vous permet un meilleur confort de lecture, sur écran comme sur papier. Ce format vous permet également des économies lors de l'impression.
A partir de l'ensemble de ces données consolidées, les experts LégiSocial rédigent des synthèses : elle vous permettent de retrouver et de comprendre facilement les informations les plus importantes de votre convention collective.
De surcroit, LégiSocial réutilise les données ACCO, permettant de proposer les accords d'entreprises conjointement aux conventions collectives : toutes les entreprises ne sont pas les mêmes, certaines ont besoin que les règles générales définies par leur accords de branche via les conventions collectives soient adaptées à leurs spécificités et à leur contexte.
Pour plus d'informations ou afin de télécharger votre convention collective et sa synthèse, n'hésitez pas à vous rendre directement sur le site de LégiSocial : https://www.legisocial.fr/
Actions
Embed
You can easily embed this reuse on your website by pasting this snippet in your html page.
Discussions 0
Discussion between the organization and the community about this dataset.