Carte interactive des zones de restructuration de la défense (ZRD)
Published on November 24, 2020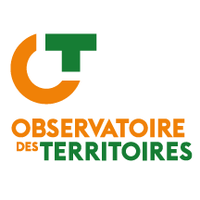 Observatoire des Territoires - ANCT
L'Observatoire des territoires est à la disposition des acteurs de l'aménagement, des élus et des citoyens, pour leur permettre de comprendre nos territoires et de construire leur développement. Animé par l'Agence nationale de la cohésion des territoires, il est chargé de rassembler, d'analyser et…
anct
defense
restructuration
zonage
zone
zrd
Informations
Type

Visualization

Topic

Economy and business

ID

5fbd23fd9678f4dee6fbb004
Publication
Creation date

November 24, 2020
Description
Carte interactive des zones de restructuration de la défense (ZRD) en géographie au 1er janvier 2020.
L'interface de cartographie interactive de l'Observatoire des territoires permet de croiser ce zonage avec d'autres zonages ainsi qu'un grand nombre d'indicateurs statistiques.
Discussion between the owner and the community about this reuse.
More reuses
Discover more reuses.