Outil de Lutte Pour la Participation
Published on 16 de noviembre de 2016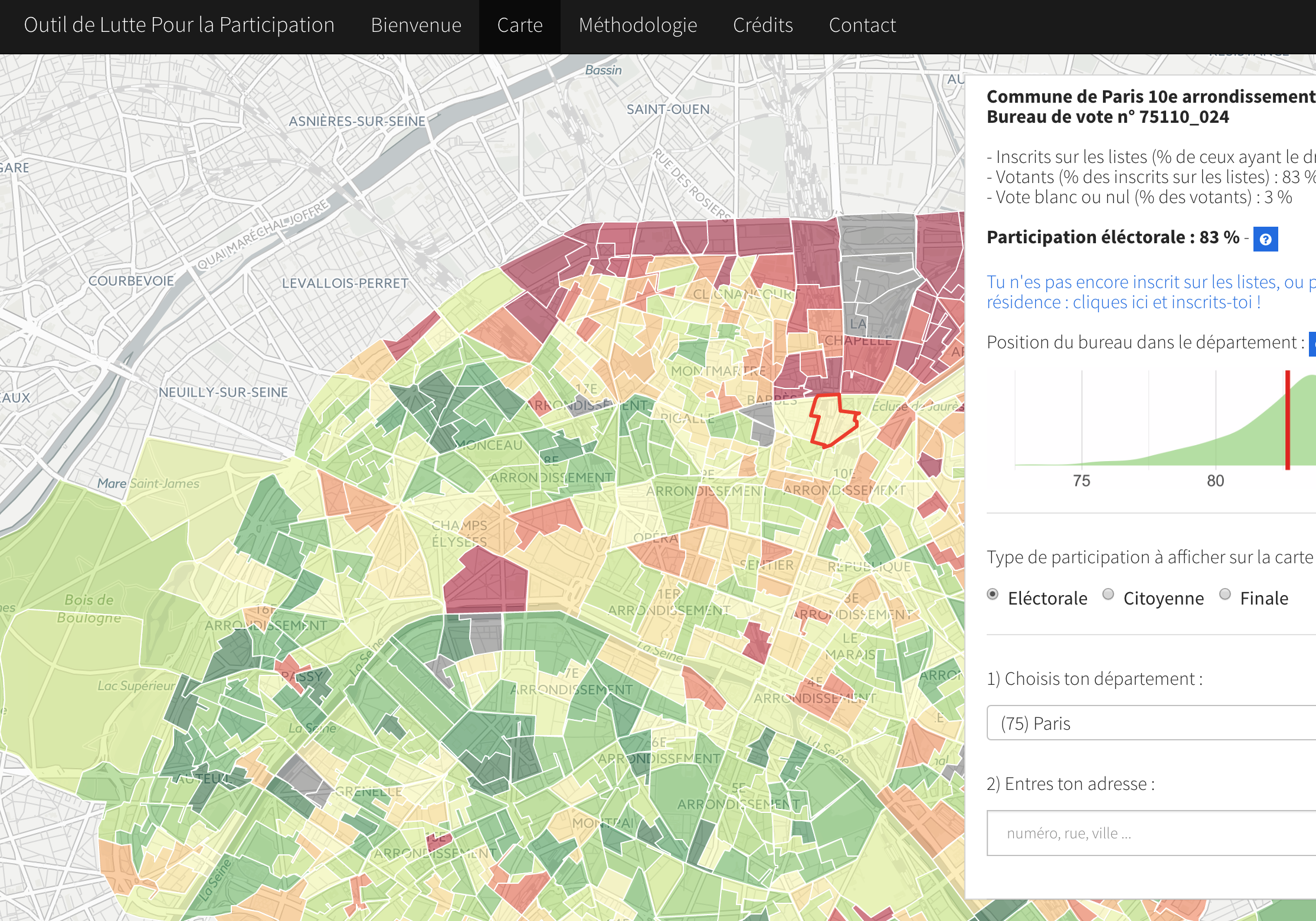 Stanislas de La Rivière
Citoyen
abstention
bureaux
bureauxdevote
carte
citoyen
citoyens
commune
data
dataconnexions-6
elections
impact-demo
information
inscrit
inscrits
leaflet
opendata
openstreetmap
participation
politique
visualisation
vote
Informations
Tipo

Aplicación

Topic

Politics and public life

ID

582c76db88ee3833b8c65bb3
Publication
Fecha de creación

16 de noviembre de 2016
Descripción
Cet outil a pour but d'informer et de sensibiliser sur les questions de participations aux élections.
Au moyen d'une carte par bureaux de vote, il permet de rapporter l'enjeu de la participation à l'échelle de son quartier pour mieux s'en saisir.
Plus largement, l'idée de cette outil est également de cartographier la participation en la rapportant non pas aux inscrits sur les listes, mais à la population ayant le droit de vote. Cela permet d'identifier dans chaque bureau la proportion de non-inscrits sur les listes, et de sensibiliser à la mal-inscription qui est un des premiers facteur d'abstention.
Cet outil n'aurait pas pu être élaboré sans le travail de l'équipe de chercheurs CARTELEC, qui est à l'origine d'une base unifiée des périmètres des bureaux de vote.
Bonne découverte !
Conjunto de datos revisado 6
Discussion between the owner and the community about this reuse.