Liste des entreprises RGE
Description
L'ADEME et les pouvoirs publics accordent la mention "Reconnu Garant de l'Environnement" (RGE) à certains professionnels du secteur du bâtiment et des énergies renouvelables. Cette mention donne la possibilité aux entreprises de se former aux énergies renouvelables. Elle est aussi une reconnaissance de qualité et permet aux clients de ces entreprises d'obtenir les aides publiques allouées aux travaux de performance énergétique. En effet, RGE est une mention indispensable pour que les clients bénéficient des aides de l'État (MaPrimeRénov', aides ANAH, ECO-Prêt à Taux Zéro, fiches CEE, Fonds chaleur de l'ADEME...) lors des travaux d'amélioration de la performance énergétique.
La mention RGE est donnée aux entreprises à l'origine de travaux d'amélioration énergétique, d'installations d'équipements utilisant une source d'énergie renouvelable ou d'études concourant à la rénovation énergétique ou à l'installation d'énergies renouvelables.
Ainsi, le jeu de données présenté ici est un recensement actualisé quotidiennement des entreprises RGE avec leur domaine de travaux.
Pour plus d'informations sur les entreprises RGE, vous pouvez vous rendre sur https://france-renov.gouv.fr/
Producer
Latest update
November 25, 2023
License
Licence Ouverte / Open Licence version 2.0
Metadata quality
Metadata quality:
Data description filled
Files documented
License filled
Update frequency not set
File formats are open
Temporal coverage not set
Spatial coverage not set
All files are available
55.55555555555556/100
Temporal coverage not set
Are you seeking to check whether your and/or a company has the RGE label?
The « Annuaire des Entreprises » makes it easy for you to find the certificates of RGE professionals.
2 APIs
Rechercher une entreprise française, par sa dénomination, ou son adresse
From Direction Interministérielle du Numérique
Le recensement des professionnels RGE (Reconnu Garant de l'Environnement)
From Agence de la transition écologique
1 Reuse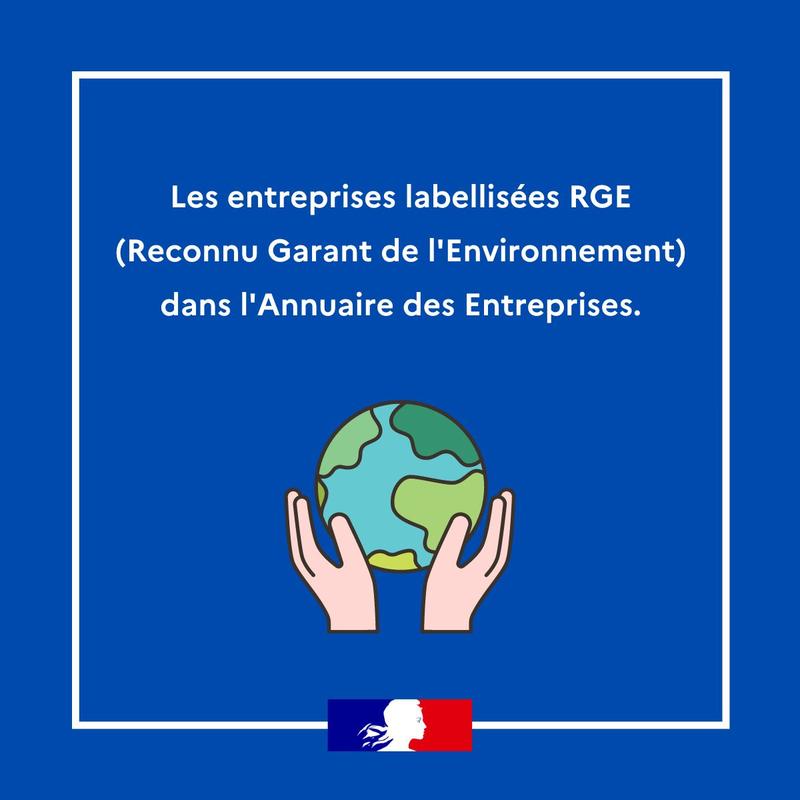 There are no community resources for this dataset yet.
Information
Tags
ID
62bd63b70ff1edf452b83a6b
Temporality
Latest update
November 25, 2023
datafairOrigin
https://koumoul.com/data-fair
datafairDatasetId
liste-des-entreprises-rge-2
recommendations-externals
[{'id': 'https://annuaire-entreprises.data.gouv.fr/rechercher?terme=&cp_dep_label=&cp_dep_type=&cp_dep=&fn=&n=&dmin=&dmax=&type=&label=rge&etat=&sap=&naf=&nature_juridique=&tranche_effectif_salarie=&categorie_entreprise', 'score': 50, 'source': 'edito', 'messages': {'en': {'title': 'Are you seeking to check whether your and/or a company has the RGE label?', 'message': 'The «\xa0Annuaire des Entreprises\xa0» makes it easy for you to find the certificates of RGE professionals.', 'button': 'Visit «\xa0l'Annuaire des Entreprises\xa0»'}, 'fr': {'title': 'Vous souhaitez vérifier qu'une ou que votre entreprise est bien labellisée RGE\xa0?', 'message': 'L'Annuaire des Entreprises vous permet de retrouver facilement les certificats des professionnels RGE.', 'button': 'Consulter l'Annuaire des Entreprises'}}}]
recommendations:sources
['edito']
apigouvfr:apis
[{'title': 'API Recherche d'entreprises', 'tagline': 'Rechercher une entreprise française, par sa dénomination, ou son adresse', 'path': '/les-api/api-recherche-entreprises', 'slug': 'api-recherche-entreprises', 'openness': 'open', 'owner': 'Direction Interministérielle du Numérique', 'owner_acronym': 'DINUM', 'logo': '/images/api-logo/dinum.png'}, {'title': 'API Professionnels RGE', 'tagline': "Le recensement des professionnels RGE (Reconnu Garant de l'Environnement)", 'path': '/les-api/api_professionnels_rge', 'slug': 'api_professionnels_rge', 'openness': 'open', 'owner': 'Agence de la transition écologique', 'owner_acronym': 'ADEME', 'logo': '/images/api-logo/ademe.png'}]