Données relatives aux prêts garantis par l'Etat dans le cadre de l'épidémie de COVID-19
Description
Les prêts garantis par l'Etat durant la crise du COVID-19
Le Gouvernement met en œuvre un dispositif exceptionnel de garanties permettant de soutenir le financement bancaire des entreprises, à hauteur de 300 milliards d'euros.
Jusqu'au 31 décembre prochain, les entreprises de toute taille, quelle que soit la forme juridique de l'entreprise (notamment sociétés, commerçants, artisans, exploitants agricoles, professions libérales, micro-entrepreneurs, associations et fondations ayant une activité économique ), à l'exception des sociétés civiles immobilières, des établissements de crédit et des sociétés de financement, pourront demander à leur banque habituelle un prêt garanti par l'État pour soutenir leur trésorerie.
Le tableau de bord des aides aux entreprises
Afin d'offrir de la visibilité à l'ensemble des Français sur l'attribution des aides accordées aux entreprises, le ministre de l'action et des comptes publics, avec le soutien technique du département Etalab de la Direction Interministérielle du Numérique (DINUM), mettent à disposition un tableau de bord dont le code source est libre, qui propose une vision consolidée du soutien apporté aux entreprises.
Description des données
Le présent jeu de données contient les données exposées sur l'onglet "Prêts garantis par l'Etat" du tableau de bord.
Les données informent, à la granularité régionale et départementale, les données suivantes :
le nombre de prêts garantis par l'Etat accordés ;
le montant total des prêts garantis par l'Etat en euros ;
le secteur d'activité des entreprises bénéficiaires (via une section du code NAF).
Producer
Latest update
September 22, 2023
License
Licence Ouverte / Open Licence version 2.0
Metadata quality
Metadata quality:
Data description filled
Files documented
License filled
Update frequency not set
File formats are open
Temporal coverage not set
Spatial coverage not set
All files are available
55.55555555555556/100
Temporal coverage not set
Are you seeking to visualize the support measures for businesses implemented by the Government during the COVID-19 pandemic?
The « aides aux entreprises attribuées dans le cadre de l'épidémie de COVID-19 » dashboard allows you to easily find out about the solidarity fund, state-guaranteed loans, direct state loans, etc.
1 Reuse
Visualization
Published on May 3, 2020 by Etalab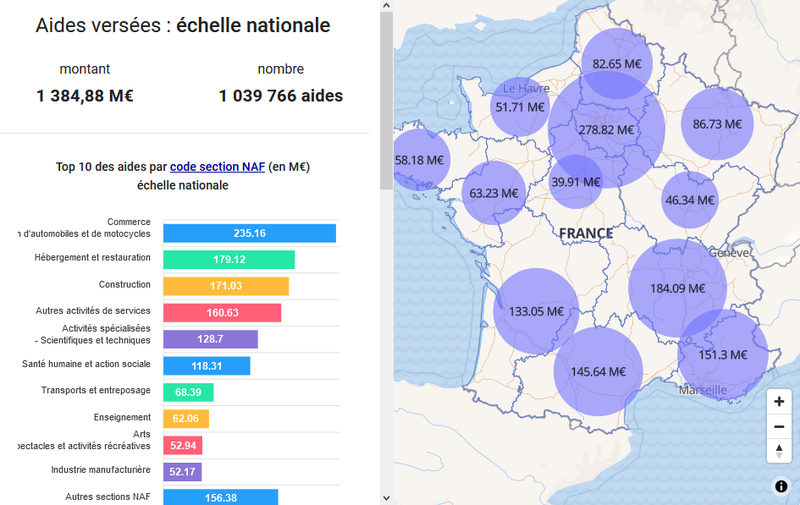 There are no community resources for this dataset yet.
Information
Tags
ID
5ebc1ab7e5d3010d32ca8260
Temporality
Latest update
September 22, 2023
recommendations-externals
[{'id': 'https://aides-entreprises.data.gouv.fr/', 'score': 50, 'source': 'edito', 'messages': {'en': {'title': 'Are you seeking to visualize the support measures for businesses implemented by the Government during the COVID-19 pandemic?', 'message': 'The «\xa0aides aux entreprises attribuées dans le cadre de l'épidémie de COVID-19\xa0» dashboard allows you to easily find out about the solidarity fund, state-guaranteed loans, direct state loans, etc.', 'button': 'Visit the «\xa0aides aux entreprises » dashboard'}, 'fr': {'title': 'Vous souhaitez visualiser les mesures de soutien aux entreprises mises en place par le Gouvernement dans le cadre de l'épidémie de COVID-19\xa0?', 'message': 'Le tableau de bord des aides aux entreprises attribuées dans le cadre de l'épidémie de COVID-19 vous permet de vous renseigner facilement sur le fonds de solidarité, les prêts garantis par l'Etat, les prêts directs de l'Etat, etc.', 'button': 'Consulter le tableau de bord des aides aux entreprises'}}}]
recommendations:sources
['edito']