L'influence de la culture pop sur les prénoms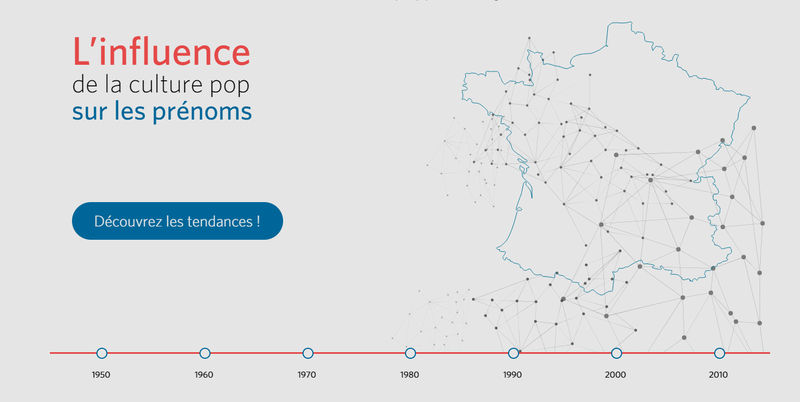 Sport, cinéma, télévision, musique… comment la pop culture nomme la France depuis un siècle !
Représentative d'un ensemble de phénomènes de masse très influencés par les médias, la culture populaire, autrement appelée « pop culture », imprègne la société dès le début du XXe siècle. Qu'il s'agisse de sport, de divertissement, de mode ou même de politique, les éléments qui la caractérisent ont aujourd'hui une influence mondiale. Que ce soit dans la manière dont on s'habille, mange ou communique, cette influence est omniprésente dans notre quotidien.
Plusieurs études ont constaté un nombre croissant de prénoms directement inspirés de la pop culture. Les stars du grand et du petit écran n'y sont pas pour rien. Mais ce phénomène est loin d'être nouveau. Fréquemment associés à des personnages symbolisant des évènements marquants, les prénoms que les parents choisissent pour leurs enfants reflètent souvent une époque.
Ce document interactif montre comment à travers le temps, la pop culture s'est chargée de nommer les bébés de France.
Conjunto de datos revisado 1
Actions
Embed
You can easily embed this reuse on your website by pasting this snippet in your html page.
Discussions 0
Discussion between the organization and the community about this dataset.