OLD Indicateurs de l'activité épidémique: taux d'incidence de l'épidémie de COVID-19 par métropole SI-DEP
Descripción
Information du 20 mai 2021
A compter de ce jour, les indicateurs seront corrigés afin de supprimer l'effet doublon, lors de la réalisation de plusieurs tests de dépistage par une même personne.
Depuis le début de la pandémie, la plateforme sécurisée Si-DEP enregistre tous les résultats des tests de dépistage. Afin de garantir la protection des données personnelles des personnes testées, chaque résultat était lié à l'émission d'un pseudo anonymisé. Cependant, avec l'apparition des variants sur le territoire, certaines personnes sont amenées à réaliser deux tests, jusqu'à présent comptabilisés deux fois.
L'algorithme utilisé a donc récemment été mis à jour afin qu'il ne décompte qu'un seul patient lorsque celui-ci se fait tester plusieurs fois dans un intervalle de temps court, toujours en respectant l'anonymat. Grâce à cette nouvelle pseudonymisation, Santé publique France est capable de renforcer son efficacité et de produire des données encore plus précises, consultables chaque semaine dans son point épidémiologique.
Les actions de Santé publique France
Santé publique France a pour mission d'améliorer et de protéger la santé des populations. Durant la crise sanitaire liée à l'épidémie du COVID-19, Santé publique France se charge de surveiller et comprendre la dynamique de l'épidémie, d'anticiper les différents scénarii et de mettre en place des actions pour prévenir et limiter la transmission de ce virus sur le territoire national.
Le Système d'Informations de DEPistage (SI-DEP)
Le nouveau système d'information de dépistage (SI-DEP), en déploiement depuis le 13 mai 2020, est une plateforme sécurisée où sont systématiquement enregistrés les résultats des laboratoires des tests (RT-PCR) réalisés par l'ensemble des laboratoires de ville et établissements hospitaliers concernant le SARS-COV2.
Description des données
Le présent jeu de données contient un fichier avec :
Le taux d'incidence toute classe d'âge pour chaque métropole ;
Le taux d'incidence pour les personnes âgées de plus de 65 ans pour chaque métropole ;
Le taux d'incidence correspond au nombre de tests positifs pour 100 000 habitants sur 7 jours glissants. Il est calculé de la manière suivante :
(100000 * nombre de cas positif) / Population.
Fréquence de mise à jour des données quotidienne.
Producer
Latest update
21 de febrero de 2023
Licencia
Licence Ouverte / Open Licence version 2.0
Metadata quality
77.77777777777779/100
Metadata quality:
Data description filled
Resources documented
License filled
Update frequency not followed
File formats are open
Temporal coverage not set
Spatial coverage filled
Update frequency not followed
Temporal coverage not set
2 Reuses
Visualización
Published on 30 de octubre de 2020 by Samuel Sender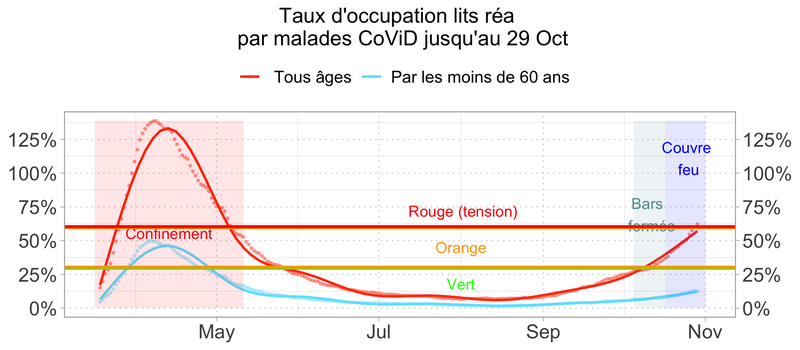 Visualización
Published on 21 de octubre de 2020 by l. gimlet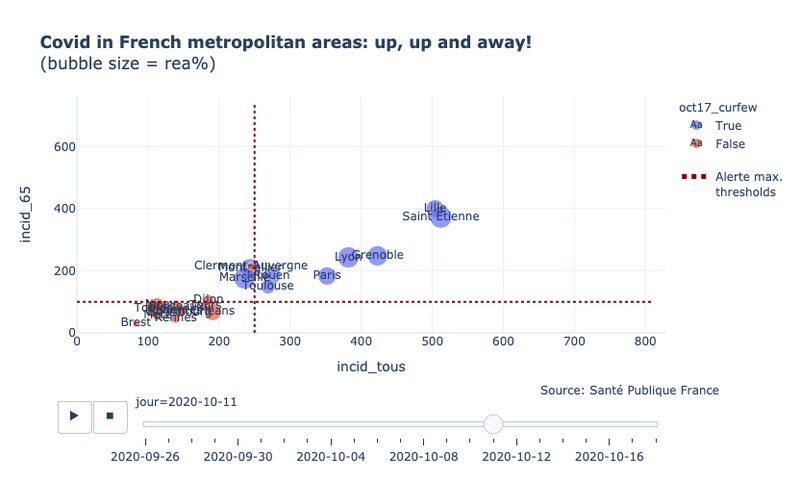 These resources are published by the community and the producer isn't responsible for them.
Information
Etiquetas
ID
5f733777722fc12a413290eb
Temporality
Creation
29 de septiembre de 2020
Latest update
21 de febrero de 2023
Cobertura espacial
Territorial coverage
France
Territorial coverage granularity
French intermunicipal (EPCI)