Salles de théâtre : où sont-elles situées ? [SPALLIAN]
Published on 29 de marzo de 2021 by SPALLIAN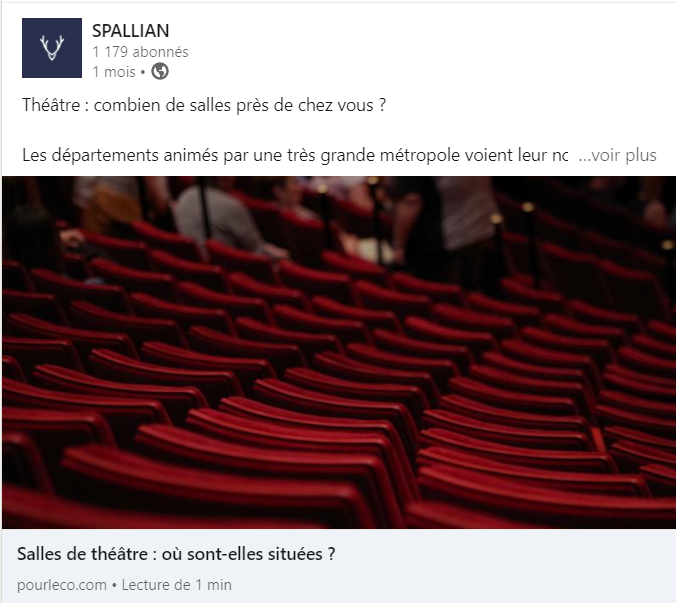 Sur ces 47 milliards, 6,6 milliards d'euros étaient générés par le spectacle vivant, soit un peu plus de 14% du poids de la culture en France. L'audiovisuel pesait, lui, 13 milliards d'euros, l'édition et la presse 7,2 milliards. Le spectacle vivant est l'activité culturelle générant le moins de marge : 11% contre 41% pour l'audiovisuel.
3,5 millions de bénévoles
8 882 entreprises marchandes du spectacle vivant étaient enregistrées en 20171, employant 12 922 postes équivalents temps plein. Auxquelles s'ajoutent 322 boîtes gérant les salles, soit 3 696 salariés. Attention, la plupart des professionnels de ce secteur sont embauchés à la mission, sous le statut d'intermittents.
Ce marché est aussi structuré autour d'associations. Les associations culturelles s'appuient sur 200 000 emplois salariés1, généralement à temps partiel, et 3,5 millions de bénévoles. 43 % des salariés sont des artistes musiciens, acteurs, danseurs, plasticiens, etc., et 15 % sont techniciens des spectacles.
Conjunto de datos revisado 3
Actions
Embed
You can easily embed this reuse on your website by pasting this snippet in your html page.
Discussions 0
Discussion between the organization and the community about this dataset.