Prix des carburants en France - Flux instantané
Descripción
Ce jeu de données ne sera bientôt plus maintenu, merci d'utiliser le jeu Prix des carburants en France - Flux instantané - v2 améliorée
Les données mises à disposition sont les informations extraites du système d'information « Prix Carburants ». Ces données concernent les points de ventes ouverts référencés sur le site https://www.prix-carburants.gouv.fr (Arrêté ministériel du 12 décembre 2006).
Les données disponibles comprennent :
Les informations générales sur le point de vente : adresse, coordonnées géographiques, horaires d'ouverture et services proposés ;
Les prix et les informations figurant dans le système d'information;
Les ruptures de stock de carburants ;
Les fermetures définitives ou temporaires des points de vente.
Le flux de données instantané est mis à jour instantanément toutes les 10 minutes.
Producer
Latest update
28 de septiembre de 2023
Licencia
Licence Ouverte / Open Licence version 2.0
Metadata quality
Metadata quality:
Data description filled
Files documented
License filled
Update frequency not set
File formats are open
Temporal coverage not set
Spatial coverage filled
All files are available
66.66666666666666/100
Temporal coverage not set
Vous cherchez une station-service à proximité qui propose le carburant le moins cher ?
L'Exploration des prix du carburant vous permet de connaître, en temps réel, la disponibilité des carburants et les prix pratiqués dans les stations-service.
1 recommended reuse
Aplicación
Published on 27 de octubre de 2022 by Etalab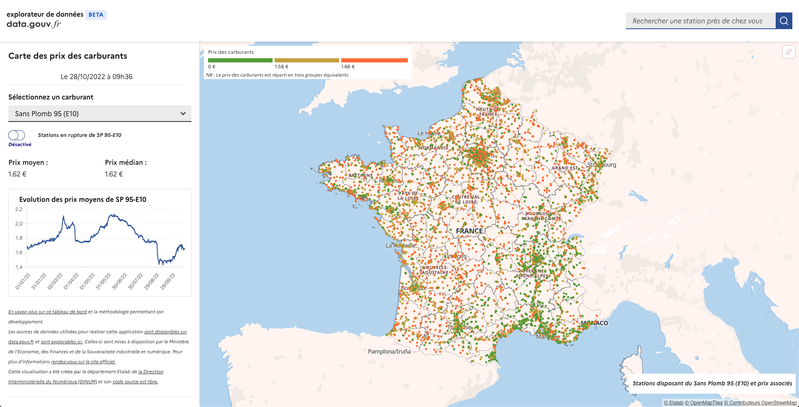 43 Reuses
These resources are published by the community and the producer isn't responsible for them.
Information
Etiquetas
ID
54101458a3a72937cb2c703c
Temporality
Creation
19 de agosto de 2014
Latest update
28 de septiembre de 2023
Cobertura espacial
Territorial coverage granularity
PDI
datagouv_ckan_id
24e8dd4f-bc04-4568-8833-b2e252109ee1
datagouv_ckan_last_sync
2014-09-16 09:58:41.488000
recommendations-reuses
[{'id': '635a9e6b04c1b9b37fb75a15', 'score': 50, 'source': 'edito'}]
recommendations:sources
['edito']
recommendations-externals
[{'id': 'https://explore.data.gouv.fr/prix-carburants', 'score': 50, 'source': 'edito', 'messages': {'en': {'title': 'Are you looking for a nearby gas station with the cheapest fuel?', 'message': 'L'Exploration des prix du carburant allows you to find out, in real time, the availability of fuel and the prices charged at gas stations.', 'button': 'Visit «\xa0l'Exploration des prix du carburant\xa0»'}, 'fr': {'title': 'Vous cherchez une station-service à proximité qui propose le carburant le moins cher\xa0?', 'message': 'L'Exploration des prix du carburant vous permet de connaître, en temps réel, la disponibilité des carburants et les prix pratiqués dans les stations-service.', 'button': 'Voir «\xa0l'Exploration des prix du carburant\xa0»'}}}]
source_id
5cd454758b4c4139d85b64f2
remote_id
prix-carburants-fichier-instantane-test-ods-copie
domain
data.economie.gouv.fr
last_update
2023-09-28 00:52:41.688000
modified_at
2023-09-28 00:07:12.745000
remote_url
https://data.economie.gouv.fr/explore/dataset/prix-carburants-fichier-instantane-test-ods-copie/
ods_references
https://donnees.roulez-eco.fr/opendata/instantane
ods_url
https://data.economie.gouv.fr/explore/dataset/prix-carburants-fichier-instantane-test-ods-copie/