Pharmacies : 1.500 fermetures d'officines en 10 ans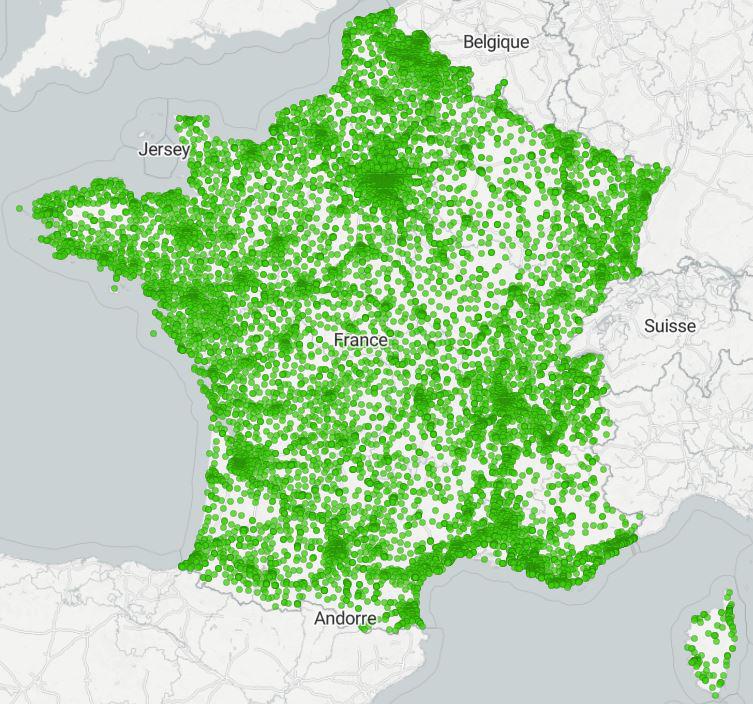 GLOBAL MAP | Des données & des Cartes N°2
Déserts médicaux et dommages collatéraux : le départ des médecins généralistes dans les territoires reculés impacte directement le maintien des pharmacies, compte tenu de la diminution des actes de prescription. Découvrez à travers cette nouvelle réutilisation, l'évolution de la couverture territoriale du réseau de pharmacies en France.
224 fermetures d'officines de pharmacies en France métropolitaine sur l'année 2018 : c'est tout bonnement le nombre le plus important de fermetures sur la dernière décennie. En 10 ans, l'on compte près de 1.500 officines en moins.
La France conserve malgré tout une bonne densité de pharmacies, avec une moyenne de 3.150 habitants par pharmacie.
Toutefois, on constate une forte chute de présence dans les villages, où seulement 1.000 officines sont comptabilisées dans les 25.550 villages de moins de 1.000 habitants, qui représentent près de 14% de la population nationale.
Cette donnée met en lumière tout le sujet autour de l'évolution des déserts médicaux, avec un transfert continue des médecins généralistes vers les grandes villes, qui participe au mouvement des pharmacies. Et c'est sur ces mêmes territoires plus reculés que l'on trouve une population senior plus représentée qui nécessitent plus d'accès aux soins que le reste de la population.
Voilà, c'est tout pour cette réutilisation ; cliquez sur la carte et découvrez les informations sur le territoire de votre choix !
Pour en savoir plus, retrouvez-nous sur Global Map Solution ou la page Linkedin de l'entreprise.
Actions
Embed
You can easily embed this reuse on your website by pasting this snippet in your html page.
Discussions 0
Discussion between the organization and the community about this dataset.