Installations de production d'électricité et de gaz
Description
Ce jeu de données est une synthèse du nombre d'installations de production par commune, tout niveau de tension confondu, en exploitation et en projet. Les données proviennent du jeu de données agrégées du Registre des installations de production d'électricité et de gaz que les GRD mettent à disposition de RTE pour sa publication unitaire en opendata. Pour tracer une évolution temporelle depuis 2017, ont été regroupées les données des mois où l'ensemble des GRD/ELD publient : à savoir, 31/12/2017 pour 2017, 31/12/2018 pour 2018, 31/12/2019 pour 2019 et août 2020 pour 2020 (à date). Ces éléments sont visualisables dans l'onglet "Analyse".
Une question sur le jeu de données ? Un cas d'usage à partager avec d'autres utilisateurs ? Le Forum des experts open data électricité et gaz est là pour ça !
Producer
Latest update
July 27, 2023
License
Licence Ouverte / Open Licence version 2.0
Metadata quality
Metadata quality:
Data description filled
Files documented
License filled
Update frequency not set
File formats are open
Temporal coverage filled
Spatial coverage filled
All files are available
77.77777777777779/100
Are you seeking to get a better understanding of France's energy mix?
Agence ORE's tool enables you to visualise the different electricity production and storage facilities in France.
2 Reuses
Visualization
Published on February 25, 2021 by Agence ORE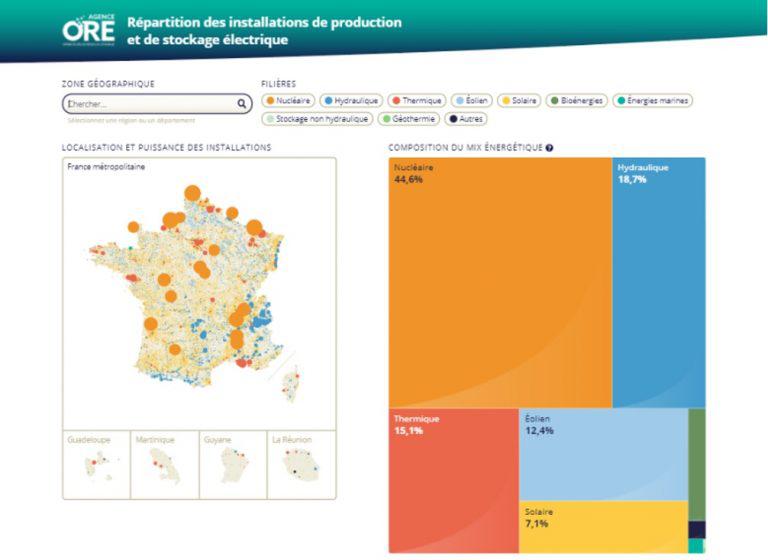 There are no discussions for this dataset yet.
There are no community resources for this dataset yet.
Information
Tags
ID
5f90f665bf376c0ae5d5f959
Temporality
Creation
October 22, 2020
Temporal coverage
2017 to 2020
Latest update
July 27, 2023
Spatial coverage
Territorial coverage
France
Territorial coverage granularity
French town
recommendations-externals
[{'id': 'https://www.agenceore.fr/datavisualisation/production-elec-par-territoire', 'score': 50, 'source': 'edito', 'messages': {'en': {'title': 'Are you seeking to get a better understanding of France's energy mix?', 'message': 'Agence ORE's tool enables you to visualise the different electricity production and storage facilities in France.', 'button': 'View the map'}, 'fr': {'title': 'Vous souhaitez mieux comprendre le mix énergétique national, ainsi que celui des régions et des départements\xa0?', 'message': 'Une cartographie de l'Agence ORE vous permet de visualiser les différentes installations de production et de stockage d'électricité en France.', 'button': 'Consulter la cartographie'}}}]
recommendations:sources
['edito']
source_id
5b130bb0c751df05bac4e2b0
remote_id
installations-production-elec-gaz
domain
opendata.agenceore.fr
last_update
2023-11-30 03:03:01.820000
modified_at
2020-10-26 08:41:05
remote_url
https://opendata.agenceore.fr/explore/dataset/installations-production-elec-gaz/
ods_url
https://opendata.agenceore.fr/explore/dataset/installations-production-elec-gaz/